THANK YOU: The download link for your eBook, How to Write Outstanding Meta Titles and Descriptions has been sent to the email you provided.
WARNING: We'll be raising the price back to $47 VERY soon… so, get the training NOW!

Section 1 – Keyword Research & Selection
Identify the Most Valuable Keywords in minutes…
♦ How to find the most valuable and relevant keywords for your market, and learn how avoid using terms that attract the kind of traffic that just won't convert.
♦ How to steal your ALL of your competitors' most valuable keywords easily.
♦ How to extract a deeper more robust pool of relevant keywords and meta descriptions from using your competitors Adwords copy.
Section 2 – How to Organize Your Keywords into Themes and Silos
You'll learn how to organize your keywords into themes prior to installing the final silos into your website.
♦ How to identify, filter and refine your keywords from various data sources.
♦ How we use spreadsheets to pinpoint which keywords have the highest yield for conversion.
♦ How to use MS Excel filters to isolate missed opportunities.
Section 3 – How to Add Your Silos to WordPress
We'll show you the Optimal WordPress settings for creating the ultimate silo'd sidebar navigation every time.
♦ The #1 rookie mistake that ruins silo architecture in WordPress & how to permanently avoid it.
♦ How to feed your silos from primary navigation.
♦ How to set up your silo widget inside the SEO Design Framework.
…and so much more.
Normally this training sells for $47, but for a very limited time you can get instant access to this material for just $7.
Yep…$7. Check it out: You can begin mastering the principles and application behind website silo architecture in minutes.
Click the "Add To Cart Button Below" NOW for Instant Access!
WARNING: We'll be raising the price back to $47 VERY soon… so, get your copy NOW!

Website silo architecture is the basis of powerful on page SEO. Creating a silo "topic" essentially creates an organizational structure at the apex of the site architecture and then elaborates on that topic by reinforcing it with respective categories and supporting articles (which are theme related). Then, search engines crawl, index and reward ALL PAGES IN THE SILO from the scoring layer of the algorithm.
The impact of topically theming your website architecture is immense, whereas a perfectly siloed website requires less referential integrity (links or citation from other websites) to get ranked as it's own pages add weight for the entire topic (a.k.a theme).
The benefit of siloing is two-fold, 1) it's great for usability as users are only presented relevant topical information once they "click in" to a silo and 2) all navigation, internal links and link equity (the power of those on site links) are concentrated back into the silo.
Essentially, silos link to categories, categories link to supporting articles and supporting articles link back to the category and the silo to create a dynamo effect for on page SEO. This is the secret sauce for optimal on page search engine optimization.
The SEO Design Framework is the only WordPress Theme that offers perfectly structured website silo architecture as a core SEO feature. Get the power of siloing your content along with dozens of other powerful SEO features today!
You've Heard About Website Silo Architecture, But How Does it Really Work?
The fact is, ranking your website is not about just adding content and links. It's about how semantically-related your content is… and how it's organized. It requires precision (both logically and structurally) when adding content to your website.
In this video training course, Everything You Need to Create Powerful Website Silo Architecture for WordPress, you'll learn how to build highly-structured and semantically-themed silos that send signals of relevance and clarity to search engines. You'll get access to the tools and process that you need to implement site architecture from conception to deployment.
Here's a sample image of the silo architecture that we'll build out in a live website as part of this training module.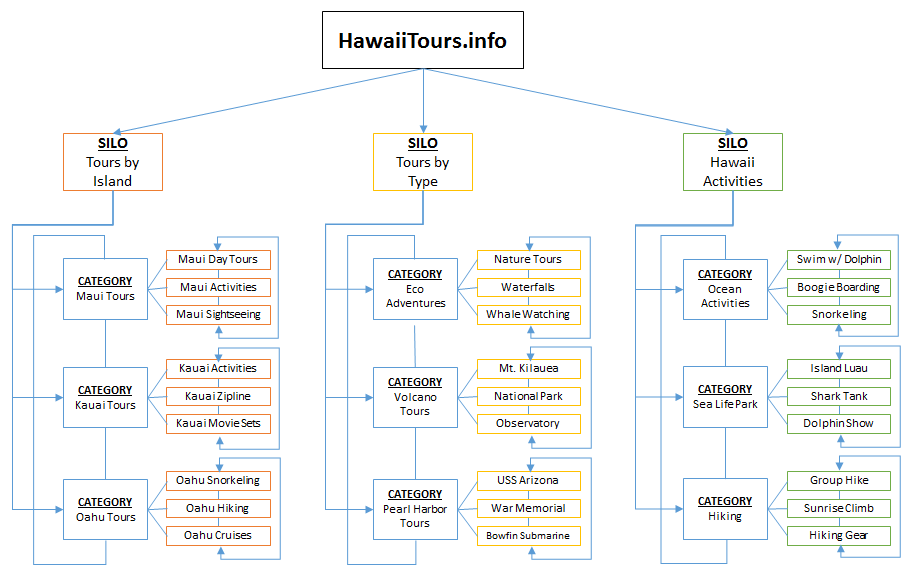 Purchase this New Video Training Module:
Everything You Need to Create Powerful Website Silo Architecture for WordPress

Confused About Semantic Relevance? — You are Not Alone!
Listen, don't panic over not having the most up-to-date understanding of how to structure semantic relevance with on-page SEO. Instead, take time to invest in yourself by learning the core fundamental elements of launching a website with proper website silo architecture.
To be quite honest, SEO is simpler than most so called "experts" will typically imply. But when it comes to the applications of SEO, consider the difference between a short order cook and a chef, they both cook food and often use the same ingredients, but it's how they use those ingredients in that matters.
BEFORE ONE LINK IS BUILT…
Make sure your on page SEO is rock-solid with these priceless on-page techniques… like a master chef!
When you dial in your on-page SEO using website silo architecture, then regardless of whether your website is aged or new you can invigorate legacy pages to reach new heights or launch entirely new site segments into top ranking positions.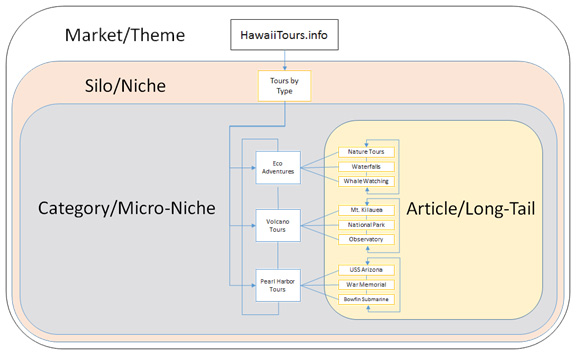 You'll learn how to identify which keywords fit where in the hierarchy of your site architecture.
New SEO Training Module Now Available:
Everything You Need to Create Powerful
Website Silo Architecture for WordPress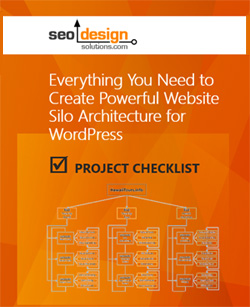 Video Training & Checklist
Keyword Research & Selection
How to Organize Themes and Silos
Adding Your Silos to WordPress
This video training shows you exactly how to build semantic relevance into your website from start to finish.
Are You Still Building Websites Without Website Silo Architecture…(Seriously?)
Website silo architecture is the single most powerful white hat SEO tactic you can deploy to create a bedrock of relevance for any new website, or to leverage the link equity of an existing one.
But Don't Take Our Word for It.
You're thinking too much about keywords and not enough about your site architecture… I prefer a tree like architecture. So, everything branches out in nice even paths… and it's also good if everything is broken down by topic.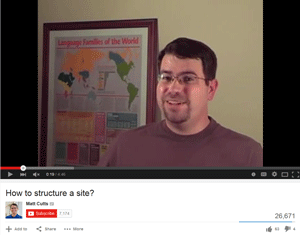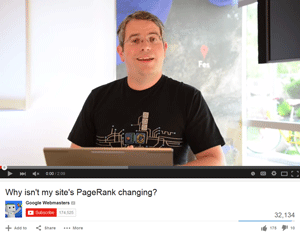 Check and make sure that you have a good architecture, you've got a home page with well linked static links going to the individual pages of your site, something like a tree like structure that leads to the individual pages can be good.
FACT: Google Wants Sites with Proper Silo Architecture
We've ranked hundreds of websites over the years (both for our own companies and for clients) and consistently, the greatest rewards and ROI came from sites where we invested first in developing proper website silo architecture.
If there is one thing Google likes more than citations and links, it's on page perfection. Put simply, implementing theme relevant silo architecture (essentially putting everything in its proper place) is the real foundation for solid, sustainable rankings.
What Makes Silo Architecture So Powerful?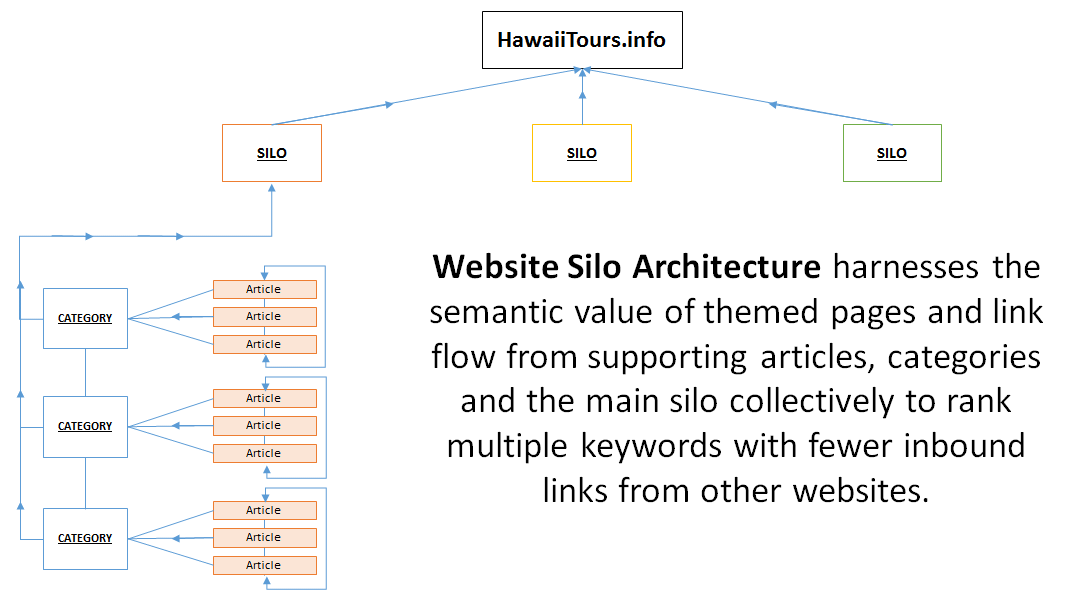 Here are some examples of extremely authoritative websites that implement semantically relevant site architecture and internal linking:

Some argue website silo architecture is the most powerful white hat SEO tactic you can use today to rank your website.
There are a million black hat tricks that you can try, a jillion backlinks gigs that you can buy of Fiverr to try to rank your site… but without proper on-page optimization it won't matter. Backlinks are only partially responsible for capturing competitive keywords, so…
Get this Video Training Module for Just $7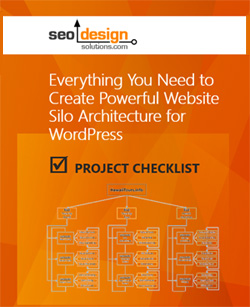 Video Training & Checklist
Keyword Research & Selection
How to Organize Themes and Silos
Adding Your Silos to WordPress
This video training shows you exactly how to build semantic relevance into your website from start to finish.
Frequently Asked Questions:
What's a Video Training Module?
It's not quite a course and it's definitely not just an ordinary report or video…
…a Video Training Module is more like a "checklist on steroids!"
And along the way we have perfected a large number of strategies and tactics. More importantly, like any good scientists, we DOCUMENT each strategy in step-by-step so our best ideas could be repeated and rolled out across all our different clients and businesses.
They're all meat and no fluff. If you want backstory and theory, go read a blog post. This Video Training Module is all about taking action and getting results as quickly and easily as possible.
Why $7?
If you're thinking "$7 is cheap…what's the catch?" then here are three reasons that should put your mind at ease:
1. $7 puts this information within the reach of everyone…from solo entrepreneurs to startups and even Fortune 500. (And at $7, you shouldn't have to get approval or fill out a purchase order.) 🙂
2. It weeds out the freebie-seekers. We only want serious marketers who take action, and in our experience charging anything…even if it's just $1…gets rid of 99% of the chuckle-heads.
3. We tested it, and $7 converted the best. (Hey, we're all marketers here so why not tell it like it is?)
We also believe that once you experience this Video Training Module, you'll want more and maybe…just maybe…you'll come back, buy more and possible even upgrade to the SEO Design Framework members area where you get access to our complete Video Training Module Library.
But that's it…
No fine print…no "hidden trials"…no shenanigans. Just the information you need and the results you want.