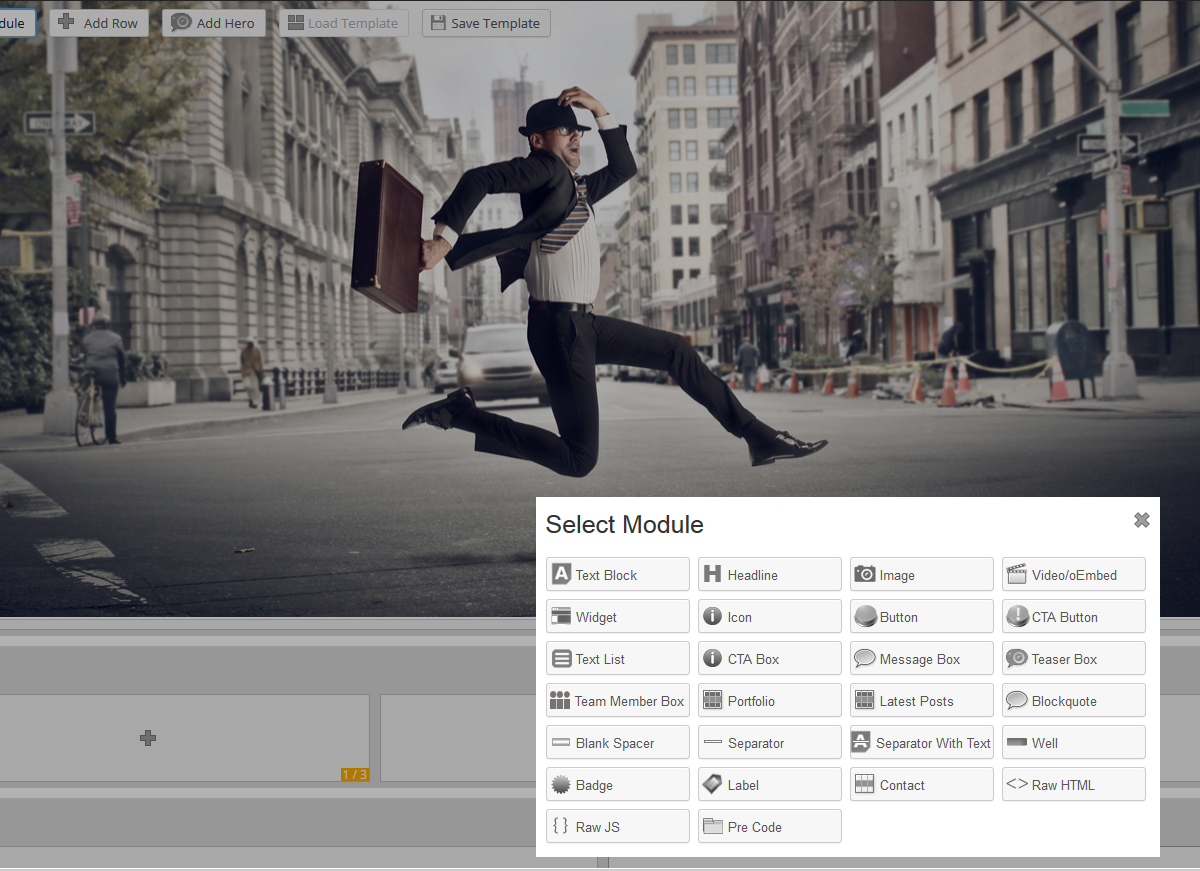 Screenshot of the SDF Page Builder in Action.
High Resolutions: Yes
Layout: Responsive | Mobile-First
Widget Ready: Yes
Unlimited Sidebars: Yes
Display Widgets: Yes (Hide on / Show on Functionality)
Compatible Browsers: IE9, IE10, IE11, Firefox, Safari, Opera, Chrome
WooCommerce Ready: Yes! WooCommerce 2.3.x
Software Version: WordPress 4.1, WordPress 4.0, WordPress 3.9, WordPress 3.8, WordPress 3.7, WordPress 3.6
Columns: 4+
Documentation: Well Documented (Video Training and Documentation).
Drag and Drop Design: Yes
Website Silo Builder: Yes
Global/Local Page Controls: Yes
Files Included: SDF Skins, Demo XML Content
Updated: April 10th, 2015 (view changelog)
SEO Design Framework Core Features:
Simple Drag and Drop Page Builder
Totally Responsive Design
Advanced SEO Features
Timed Lightbox for Ads, Opt-Ins, Offers
HTML5 & CSS3 Image / Text Animations
Global / Local Page-Level Settings
600+ Google Web Fonts
Sticky, Fixed to Top & Gradient Menus
Integrated Twitter Bootstrap Framework
Bootstrap Page Elements ( Accordions, Tabs, Tooltips, Popovers, Buttons, Forms, Tables, Lists).
Boxed or Wide Layouts
Extensive Style Editor
Font Awesome Icon Library
Save or Load Custom Page Templates
Layout and Color Options with Infinite Variability
Extensive and Robust Typography
1 Up To 6 Columns Portfolio and Blog Layouts
Easy Customization
1000+ Admin options
Full Localization Support ( .po/.mo files)
Logo Uploader
Fav/Touch icons uploader
Up-to-date WP/Feature Theme Updates
And Much, Much More…
13 SDF Widgets (for Social Media, Video, Maps, Contact Forms & More)
Unlimited Header Options w/ Header Layout Builder (Four Widget Areas, Logo, Navigation and Slider Block)
Fully Widgetized (11 Widget areas) w/ Reusable Widgets assignable to individual Pages or Post Categories
Unlimited Sidebars
Website Silo Builder
Unlimited Theme Style Presets
Revolution Slider (a $15 Value)
Settings Export Feature (For Theme Skins)
Everything You Need to Build the Website You Want!
Extended Admin Panel. Over 1000+ Admin options at your fingertips!
Structured Code. The markup is HTML5 based and styled using the latest CSS3 techniques with Bootstrap Page Elements and Components.
Fully Responsive. The SEO Design Framework has a fully responsive layout that adapts perfectly for all device resolutions like mobile devices, tablets and desktops.
Limitless Colors. The SEO Design Framework includes backend color options for nearly every page element or section. You are able to change every element with ease and the overall design to create your own websites according to your corporate identity guidelines or individual preferences.
Shapes. The SEO Design Framework also includes 10+ image shapes in combination with border radius variations and unlimited layout styles. Choose one of 9 preset shapes w/ or w/o image frames and additional text content styling options.
Portfolio Options. Providing 1 up to 6 column layouts with ajax filters and/or pagination for portfolio widget or SDF page builder module. Set custom categories per blog or portfolio.
Extensive and Robust Typography. FontAwesome and Glyph icon fonts with Bootstrap Page Elements/Components (Accordions, Tabs, Tooltips, Popovers, Buttons, Forms, Tables, Lists…)
Google Fonts. 640+ Google fonts that you can add with ease to your designs.
Localization. Theme is translation ready and comes with .po and .mo files that can be used for translating your theme to a language of your choice.
SEO. Advanced Search Engine Optimization options.
HTML5. This Theme uses a well-structured and semantic HTML5 markup which is great for high search engines ranking.
Easy Customization. Independently customize the header, footer, navigation, titles, layouts and more on a page by page basis.
Boxed or Wide Layouts. Implement wide or boxed layouts globally or at the page level with ease.
Customization. Custom per-page styling functionality. Customizable header and footer with widget areas.
Hassle-Free Design Tools. Portfolio Builder, Teaser Builder & Team Builder Module, Draggable Header Builder, Drag and Drop Page Builder.
Social Icons (Both Sharing and Follow Icon Customization)
Portfolio Items ( Animated Responsive Image Grid )
Flickr Photostream ( Animated Responsive Image Grid )
Instagram Photostream ( Animated Responsive Image Grid )
Pinterest Photostream ( Animated Responsive Image Grid )
Google Maps
Address Info (Address, Phone, Mobile, Fax, Email, Link, Work hours)
Video ( Support for Youtube, Vimeo and Embedded Code Video)
Audio ( Support for SoundCloud, .mp3 and .ogv audio)
Website Silo Navigation (Navigation that only shows links to theme related content).
Photo (Widget to Add photos to any static or dynamic widget).
Contact Form (Simple Contact Form with CAPTCHA, Subject Line and Input Area for Messages).
Drag and Drop Page Builder Modules
Text Block – Easily add and style text, tweak justification, font family, size and more.
Headline – Use the headline module to customize, fonts, family, size and add rotator effects.
Image – Add totally responsive images to pages / posts.
Video/oEmbed – Add video or media content in a few clicks.
Widget – Add any widget anywhere with unlimited sidebars.
Icons – Select from hundreds of FontAwesome Icon vectors from default to 5X size,
Buttons/CTA Buttons – Add a message next to buttons.
List Styles – Create ordered, unordered list styles with dozens of icons and styles.
CTA Box – Use the call to action box to add urgency.
Message Box – Add a custom message on click.
Teaser Box – Add text images and FontAwesome or Glyph Icons with ease.
Team Member Box – Create a team member box with images, icons and more.
Portfolio – Add portfolios to any page, post or layout.
Latest Posts – Add latest posts with thumbnails, title or title and info.
Blockquote – Add and style quotes, icons and author attribution.
Spacer /Separators – Add blank or styled spacers.
Separator w/Text – Add separators with text.
Well – Add a well color to content areas.
Badge – Add a badge to designs.
Label – Add a label color callout.
Contact Form – Add Contact forms to pages or posts.
Raw HTML – Add HTML or scripts with ease.
Raw JS – Add Scripts to page content.
Pre/Code – Add pre code to pages/posts.
Frequently Asked Questions